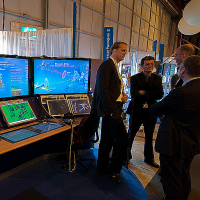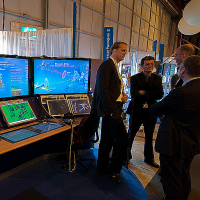 On the 4th and 5th of November the Innovation Relay 2009 (formerly the Day of Maarssen) took place at Airbase Valkenburg. The theme of these days was, just as in 2005 and 2007, innovative developments in construction, logistics, aviation, water and traffic & transport. KDC supported the Innovation Relay with several stands in the aviation pavilion and a workshop about the SARA project.
The highlight was a demonstration for the Minister of Transport, Mr. Eurlings about the development of Continuous Descent Approaches (CDA's) that forms an important part of the Knowledge and Innovation Agenda for Aviation.
Akos van der Plaat (supervisor Area Control at LVNL) used radar screens and NLR's APERO flight simulator for the demonstration to the Minister. The Minister could see the development of high capacity CDA's and the step which the SARA project realises in this development. Minister Eurlings was very interested in the benefits of this development for the economy and environment and asked questions about its impact on controller working procedures.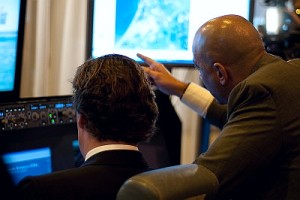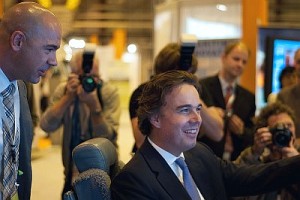 The contribution of KDC to the Innovation Relay was made possible by NLR and DGLM and underlines the excellent cooperation between government, aviation sector and NLR.
The Innovation Relay is a biennial initiative of the ministries of Transport, Public Works and Water Management and Economic Affairs to bring government, industry and knowledge organizations together. The objective is to stimulate innovation to keep The Netherlands accessible, clean, safe and competitive.