The ILS ground inspection intervals can be extended, which reduces the interference of ground inspections with operational use of the runway.
The Instrument Landing System (ILS) of a runway is a complex radio navigation system transmitting radio signals which provide aircraft with precision approach and landing guidance, which is especially beneficial when visibility is reduced due to fog or rain. For safety reasons, the ILS quality of service needs to be checked periodically via transmission test measurements in the air and on the runway. While these tests are taking place, the runway needs to be closed, which has an impact on airport capacity, which particularly affects busy airports. In the case of Schiphol airport an extra effect of ILS measurements is that it negatively affects the use of environmentally preferred runways.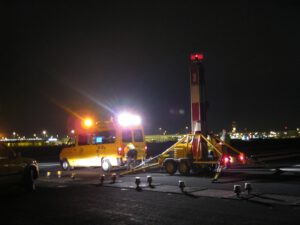 Figure 1 Preparation of ILS ground measurement equipment at the runway
The aim of the KDC project "Optimising Preferred Use of Schiphol runways through flexible ILS maintenance", referred to by the acronym OPUS, was to investigate the feasibility of additional permanent monitoring of the signal quality of the ILS, in order to enable a more flexible planning of ILS ground inspections at Amsterdam Airport Schiphol, which in turn would enable to reduce the impact on operational runway usage.
The OPUS team used an ILS simulator to look for suitable positions next to the runway of a so-called Additional Field Monitor (AFM) continuously measuring the transmission. They also investigated if and how measurements at the runway could be replaced with equivalent measurements by one or more of such AFMs. The OPUS team was able to confirm feasibility of field monitoring of ILS signals, providing an implementation perspective for a more sustainable airport operation through innovation.
For more information download the full report.