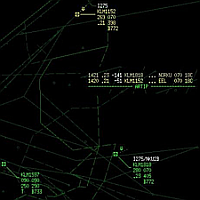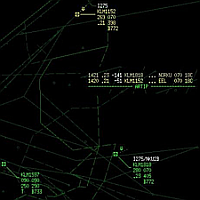 In the last two weeks the project team 'Speed and Route Advisor (SARA)' has completed a successful real time simulation at NARSIM of the National Aerospace Laboratory (NLR). Fredrik Eriksson, project manager SARA: "The simulations were an important step in the validation of the SARA operational concept and completed a year of intensive concept development. It is thereby with great pleasure to announce the successful completion of the simulation phase".
For the simulation at NLR there was, in addition to the simulation room, a separate visitors part from which visitors could follow the simulation. Akos van der Plaat, traffic controller ACC and experiment leader, claimed the control on the simulation session and also accompanied the group of visitors with explanations of the simulation. The group that took part in the simulation was diverse with both LVNL- as external experts and managers. 
Thanks to the hard work of the SARA project team, the LVNL operational experts, pseudo pilots and the professional support of the NLR team went the simulation without technical or organisational incidents. Participants in the simulation and in particular its representatives from the participating partners in the KDC, were impressed by the performance of the NLR NARSIM team with regard to the preparation and implementation of the experiment. Fredrik about the simulation: "it was top of the bill!" The simulation has a lot of valuable data that the project team will analyze and edit the next period.